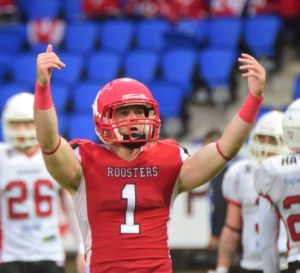 Maple League offensive player of the year 2018 is coming back to town for another season. Last season Adam Connette had a well working brotherly connection with Brandon Connette, so there are new challenges waiting him to develope same kind of relation with the new quarterback orchestrating Roosters offense. Helsinki Roosters head coach and offensive coordinator Mikko Koikkalainen has all the reasons to be excited about getting back one of last season's most productive wide receivers.
– Adam is one of the best route runners I've ever seen. What he did last year was not a mirage. He can play outside and inside, he is very dangerous with ball in his hands. He is tough and physical blocker. And he is super easy to work with and just a great guy.  Add it all together and it was a very easy decision to have him back.
Adam Connette joins the team by the beginning of March.
Here are some quick answers from Adam Connette:
What made you decide to come back to Roosters for Maple League season 2019?
– I made some great relationships with all sorts of people in the Roosters organization so that was part of why I wanted to come back. I also loved living in Helsinki.
Last season you connected well with Brandon, what are your expectations to work with new quarterback Garrett Safron?
– I expect us to have a great connection. I'm excited to get to Helsinki and start throwing with him and practice.
What are your expectations for your second season in Maple League?
– I expect the Roosters to win it all. Nothing new this season, same expectations from last year.
Any message to Rooster fans?
– Get ready for another fun season of football! #RedsHouse
Text: Pekka Lylyharju
Photos: Roosters Media, Jarmo Vehkomäki