NEFL champs decided
Next Saturday Helsinki Roosters meets last year's NEFL champions Copenhagen Towers in decisive game of this year's title. Both team bet Stockholm Mean Machines and coming Saturday the winner takes it all. Roosters head coach Mikko Koikkalainen and his players have worked hard to prepare.
– Our game preparation has gone well. After the Mean Machines game we used few practices to correct our mistakes and working our own stuff but the last two weeks has and will be purely Copenhagen Towers specific. Towers is very talented team and offers quite different play style, specially for our defense. Their defense also does some fun things that we need good preparation and practice sessions.
As offensive coordinator Koikkalainen recognizes the talent coming against his offense. Executing must be sharper than against Stockholm.
– Their defense is full on Danish National Team players so they have talented players. They have multiple schemes to pressure the QB and they will throw a lot to our offensive line, RBs and QBs to handle. We left some plays on the field against Stockholm, those we need to hit this time. And as it is with every game, 3rd downs and red zone are huge. When we get in scoring position, we need to take advantage of them.
Copenhagen Towers have started Danish National League but so far assistant head coach Victor Andersen doesn't think the schedule has been too tight and they are in good nick against Roosters.
– We have had a really great preparation. We have had two good games in the National League in Denmark, and then our first international game of the season against Stockholm. All games have been played with a bye week in between. That puts us in a position where we have played games on a high level and found our own strengths and weaknesses, while be able to play football fairly rested.
– We expect a great game from the Roosters. They have a very athletic roster with a lot of discipline. They look as if they are very organized and well-coached. Roosters offense will be a challenge in the box, where they have several good runners in the backfield, including their QB, running behind a very good offensive line. I expect them to try to take advantage of their very good offensive backfield. I expect this matchup to be very good, as we are very comfortable with our own defensive front 7, Andersen scrutinizes the battle between Towers defense and Roosters Offense.
On offensive side of the ball he emphasizes mistake free play against versatile Roosters defense.
– On defense we expect the Roosters to rely on their very good defensive line to try limit our running game and force us to throw the ball against their athletic defensive backfield. We will try to limit the mistakes we had in the last game, and try to find some rhythm in the passing game. We have worked hard to make our offensive effective on the ground, and we believe we can find ways to get this done against the Roosters.
Roosters' defensive coordinator Kalle Karppinen has been studying Towers' offense well in advance and now it's time to put last pieces in right places.
– The Towers are an interesting opponent for our defense, as their use of a multiple formation offense, often with two tight ends, is something that we do not face on a regular basis in the Maple League. However, we should be well prepared as we took some time already in the off-season to do some preliminary work on their formations, and now have had a couple of weeks to install our game plan. The Towers showed a very potent run offense against the Stockholm Mean Machines, so stopping that will be the starting point for our defense. As usual, a big key to controlling the game will be controlling the line of scrimmage, and we feel confident in our defensive line's ability to win the 1 on 1 matchups up front.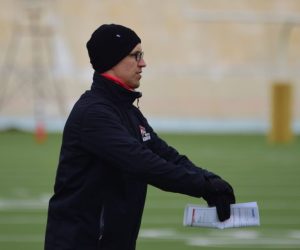 It will be a tight game
Wide receiver Alexander Wasiljeff was chosen the most improved player of the off-season on offensive side of the ball. In that practicing with quarterback Miro Kadmiry whole off-season has helped a lot.
– Off-season went well on my part, being healthy as the rest of the team. It's been great to practice with Miro the whole winter and I think it'll show during summer. I really don't know much about the Towers, but last year they won the NEFL and now they bet Stockholm so I think it'll be a tight game. We'll see.
Against Stockholm wide receiver Nnamdi Agude had been in Finland only one week. Now he has had more time to build the connection with quarterback Kadmiry.
– Everything has gone smooth. They have been taking care of me so I have no complaints on my side. Me and Miro got some extra working and getting our chemistry together and just to make sure we are on the same page, where we are right now.
– I don't know much about Copenhagen besides the film we watched. It's common opponent we played with Stockholm, so I watched how the Towers played. They are mostly Cover 3-team and they don't wanna be beaten deep, so we just got to pick our parts and play our Roosters offense. We're not gonna change anything. We like what we have here, Agude says about Roosters offense coming Saturday.
Defensive back Benjamin Ylipää is another new comer in Roosters. He believes that he's coaching staff will give the right keys to shut down Towers offense.
– It's been great, the guys have welcomed me well and I've gotten inside the team immediately. Training has been organized very well here and it's been good to get to play after a while. I trust our Coach Karppinen and his ability to find the right means for us to defend against them. It seems to be more running game and bulky players and it's a good variation to normal spread offence. It's cool to play against a little different offense.
On defensive line Heikki Lesonen has also had a smooth off-season.
– Winter practices went well and there has been really good team spirit this winter. We have been working out hard but smart under our physical and position coaches. So it's gone well and we are heading towards Maple League in high spirits.
Lesonen doesn't know much about Copenhagen Towers, but it doesn't affect his attitude.
– We have prepared like every other games, nothing abnormal. I'm always anticipating a tough opponent and play hard against everyone, no slowing down anytime. I think Copenhagen gives tough opposition and these international games are awesome experiences. It's fun to go there and see what's going on. They have succeeded and I'm really looking forward to meet them in the game.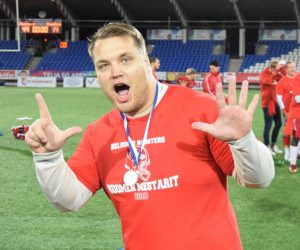 Hard and physical game
Towers' assistant head coach Victor Andersen and Roosters's head coach Mikko Koikkalainen both waits an exciting game. Like last year's NEFL Final the difference in points doesn't grow big Andersen anticipates.
– This game is gonna be a tight and exiting game. We expect the game to be decided in the very last seconds, like it happened last year in our NEFL final against Carlstad Crusaders. It is gonna be a tough physical game, and we will probably see the score line around the same as the games against Stockholm.
– I and the whole team are very excited about this game. We haven`t played against Danish team since 2015 so it is kind of a new opponent for us and that is always fun. And it is "Bowl" game in the sense that we both won our first game and are playing for the Nordic Championship. I`m expecting a hard and physical game that will come down to the wire, so close were both of our games against good Mean Machines team, says Mikko Koikkalainen.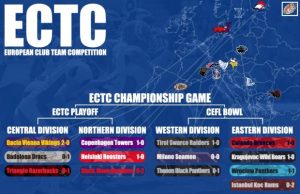 Copenhagen Towers vs. Helsinki Roosters, May 11th, 15:00 local time (16:00 Finnish time), Gentofte Stadion, Ved Stadiun 14 a, 2820 Gentofte
The game is also streamed online.
Text: Pekka Lylyharju
Photos: Jarmo Vehkomäki